In the Pacific Ocean, a combination of four different currents combine to form the North Pacific Subtropic Gyre —a slow-moving spiral of water in the middle of the Pacific. That wouldn't be a problem except for the fact that human beings are pretty messy creatures.
Sometimes, when different things come together, magic occurs. There were four boys from England who formed the Beatles, five giant robotic lions formed Voltron, and peanut butter and chocolate combine to make a treat that is more delicious than either one on its own (sorry kids with peanut allergies).
However, not all combinations have good results. For example, any team combination of the Toronto Maple Leafs since 1967 has been unable to win a Stanley Cup. In the Pacific Ocean, a combination of four different currents combine to form the North Pacific Subtropic Gyre —a slow-moving spiral of water in the middle of the Pacific. That wouldn't be a problem except for the fact that human beings are pretty messy creatures.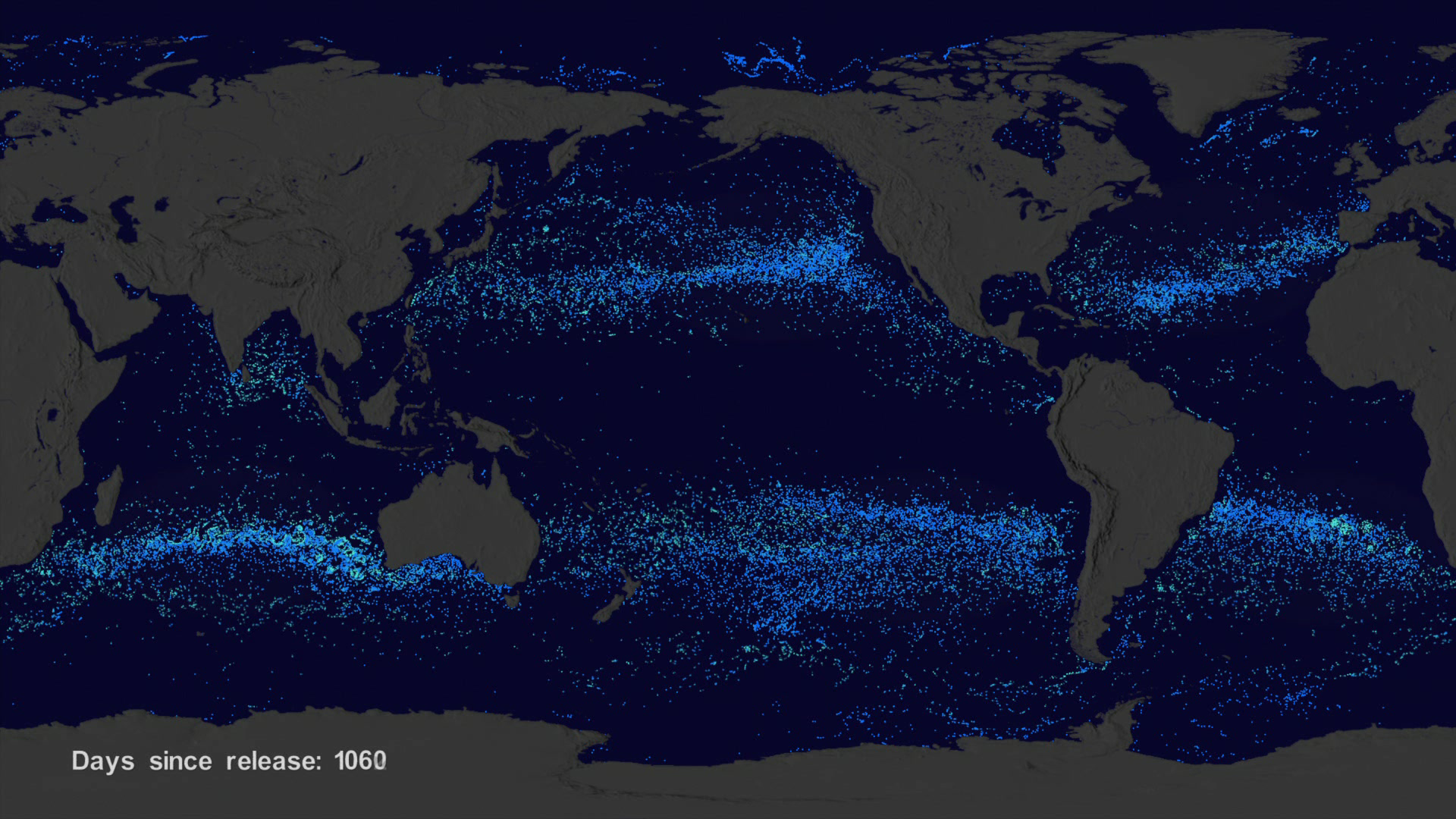 One piece of trash quickly becomes a cesspool
The area in the center of a gyre tends to be calm and stable, which means that a plastic bag that falls off a ship en-route to California can ride the different currents until it ends up floating in a stable zone in the middle of the Pacific. The current brings the trash in, where it sets up like a relative on your couch overstaying their welcome.
Approximately 80% of trash in the patch comes from North America and Asia, while the rest comes from boaters, oil rigs, and lost cargo from freight ships and other vessels.
Much of the debris floating in the ocean is plastic. This is largely due to the fact that we use plastic so much in our society. It is durable, low-cost, doesn't biodegrade in water, and has a wide variety of uses. These are great traits when describing a building material, but horrible when they apply to floating refuse.
Trash from North America can take as long as six years to reach the Pacific Garbage Patch as it moves through the collection of currents in the area. Currents from Asia have a much more direct route, so trash from China and other eastern countries can get to the garbage patch in about one year.
Does anyone want a bowl of garbage soup?
It's estimated that 8 million tons of plastic make their way into the oceans each year. A large amount of plastic has gotten caught in the North Pacific Subtropic Gyre, creating something that has been called the Great Pacific Garbage Patch.
The Pacific Garbage Patch was discovered in 1997 by Charles Moore, while he was on a voyage past Hawaii.
The Pacific garbage patch has been called the largest garbage dump in the world. That might lead you to think that it looks like this:
But that's not quite true though. You can sail right through the garbage patch without seeing more than a few fragments of plastic on the surface. But traveling on the ocean is like living next door to a polite serial killer – it's what you don't see that matters.
The plastic in the Pacific Garbage Patch doesn't biodegrade like food waste might on land. Instead, it photodegrades, which means the plastic just breaks into smaller and smaller pieces, turning the ocean area into a garbage soup of sorts. Eventually, a piece of garbage such as a plastic bag can break down into pieces so small that it can be eaten by smaller ocean creatures. This brings the toxic chemicals from the plastic into the food chain.
And yes, if we don't want it in the ocean, we definitely don't want it on our dinner plate.
Unfortunately, due to the shifting nature of ocean currents, and the fact that this degraded plastic can be floating on, or under the water, it's very difficult to estimate the exact size of the garbage patch and figure out exactly how much plastic is in it. Some older estimates said that the patch is "twice the size of the continental United States".  More recent discussions on the topic suggest that media claims of the garbage patch size are "grossly exaggerated".
But don't get too comfortable thinking this isn't a big issue. The 2009 Scripps Institution of Oceanography/Project Kaisei SEAPLEX survey mission found plastic debris in 100 consecutive samples from various depths taken along a 2,700 km path through the garbage patch.
In a completely unexpected series of events, especially when you consider the human race's history of environmental mistakes, we're actually trying to do something about this floating pot of garbage soup. There are a few initiatives underway to try and fix this problem. One of the most interesting efforts is being led by a 21-year old innovator from the Netherlands named Boyan Slat. Slat's plan is relatively simple and elegant, and it has already raised the money it needs to run a test in real life conditions.
If the prototype is successful, Slat's plan could clean as much as 150 million tons of plastic from the oceans. With a plan in place that could gather the plastic that's floating about in the oceans, we have another important question: what will we do with it next?
The answer might be a simple one: wear it.
Just last year, Adidas created a prototype sneaker made partly from plastic recovered from the ocean. When you consider that in 2014, every man, woman, and child in the United States purchased 7.5 pairs of shoes on average, the demand for shoes can make good use of recovered plastic.
Solving the problem of plastic in the oceans will take some effort. However, if we do nothing, there could be more plastic than fish in the oceans by 2050.
Maybe it's time we get started.